FEATURED: The business of art provides much pleasure for pottery maker Shirley Cadmus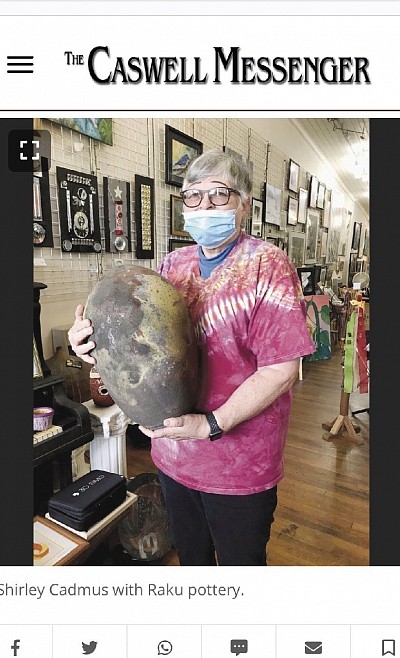 Cadmus Raku Pot makes national exhibit at Hilton Head Island
Facebook
Twitter
WhatsApp
SMS
Email
Save
Next in the series of articles highlighting the members of the Caswell County Chamber of Commerce is an overview of a Milton business with a very unique shop full of interesting items, the Milton Studio Art Gallery. If you would like your organization to be highlighted in an article, please contact the Chamber of Commerce and you can be scheduled.
Thank you to The Caswell Messenger for their partnership in allowing our members share an overview of the unique organizations that make up Caswell County.
Here in Caswell County, there is a vibrant art community that is becoming larger and stronger. If you visit the Caswell County Council for the Arts or especially if you stop into the Milton Studio Art Gallery, you will see right away that ART is indeed a business that can make us all smile.
On a beautiful Saturday morning in September, the Chamber and gallery owner, Shirley Cadmus sat down to discuss a few exciting recognitions that this particular Caswell Artist is being recognized for in October. At the National Juried Craft Show in Hilton Head Island, SC, Shirley has one of her raku fired pottery works being exhibited.
'American' or 'Western' raku is a process in which pottery work is removed from the kiln at bright red heat (about 1800 degrees) and is then placed in a container of combustible materials such as sawdust, paper and dried leaves. The materials absorb the oxygen out of the glaze on the pottery and then water is poured on to cool it quickly. The types of materials included, the weather of the day and the heat variations, create a uniqueness of results. The pottery being recognized at the Hilton Head event is pictured with Shirley in the photo.
A retired art teacher from George Washington High School in Danville, VA, Shirley Cadmus is originally from Bayville, New Jersey. Initially she thought she wanted to be a Spanish teacher and went to JMU to become one. After visiting the college's art department, she decided art was what she was destined to do. She then changed her major and as they say, 'the rest is history'.
Upon graduation from college, the placement office notified her about a teaching job in Danville, VA and that is where her career began and flourished over many years. After nine years of teaching pottery, computers appeared as a new part of the art community. Not afraid of change and Shirley being influenced by the work Andy Warhol was doing on the Amiga computer, she dove in and became a self-taught graphic artist on the computer in the 1980s and developed a computer art and animation course. Shirley served as adjunct professor at DCC and Averett University where she taught various art and photoshop classes. Twelve years ago Shirley and two artist friends created the art gallery in downtown Milton and the gallery has been there ever since.
The gallery contains paintings and artwork of over 60 artists from Caswell and the surrounding areas. Here they market their work and Shirley helps promote the artists through the gallery's website (MiltonStudioArtGallery.com), the gallery's Facebook page, and a marketing brochure. It is a great example of the art community working together to help all succeed. Shirley enters her own work in art shows across the nation. She has been recognized from California to the east coast. This fall, Shirley is being recognized in an international virtual art show with her piece entitled COVID-19. It is a mixed media piece including the work of a 3-D pen, paint and paint markers/pens and is being recognized until November 4, 2020 at the Political Discourse Show.
Other artists represented at the gallery include:
Alex Sharp, Milton (owner Milltown Eatery)
Karen Williamson, Milton
Will Williams, Caswell, steel cuttings in gallery
Russell Watlington, Yanceyville, Caswell related pen/ink scenes
Sue Seamon, Yanceyville, paintings
Ross Frederick and Mimi Proctor Games, Hillsboro
Jane Williams, Durham, potter
Hendrika Vande Kemp, Durham, old Dutch technique/Iris Paper decoration
Chrystal Hardt, Hillsborough
Carol Hollinger, Chapel Hill
Linda and Bob Zirillo, Roxboro
Beth Bale, Sanford, watercolorist 
Jane Carter, Providence, painter
Jared Terrell, Yanceyville, artist/art teacher at Bartlett Yancey High School
Diane Kendrick of Milton/Danville
Sarah Bolduc and Andrea Burke From Clarksville and Littleton
Sam Lasris, Cedar Grove, paper collages/other 3D works with found objects 
Brent McSherry, Semora, photography
Poplar Branch Pottery, Roxboro
Robert Whiteman, Dryfork, VA, paints realistic people/scenes in ancient technique of Egg Tempera
Steve Garner, Roxboro, hand carved owls, ducks, and crosses
Ernest Dixon, Person County, handmade pine straw baskets
Most all are award winning artists. So the next time you are in Milton on a weekend, be sure to stop in to visit, and let Shirley know you read about her in this article and explore some of the work that our county artists have for sale there.